Petrol price hiked by Rs 2.98/litre, stands at Rs 84.51/litre
Islamabad: Government has hiked petrol price by Rs 2.98/litre on Wednesday as petroleum products were subjected to a revision on Wednesday, approving summary forwarded to the finance ministry by Oil and Gas Regulatory Authority (OGRA).
The revised price of petrol stands at Rs 84.51/litre while that of high-speed diesel stands at 95.83/litre with an upward revision of Rs 5.92/litre.
Price of kerosene oil was raised by Rs 5.94 to Rs 70.26 per liter and that of light-speed diesel by Rs 5.93 per liter to Rs 64.30 per litre.
---
The following prices of different petroleum products have been approved for the month of February 2018: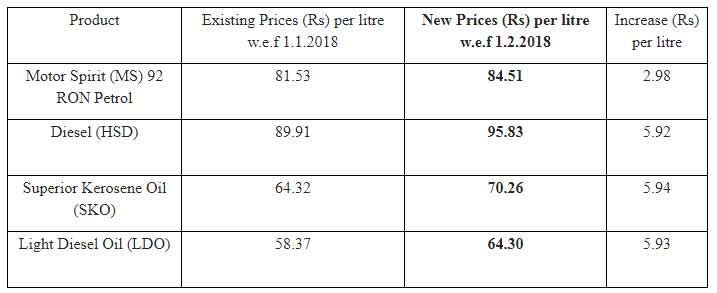 ---
The prices of petroleum products are going up on two counts – rising crude oil price which reached to almost four year high level and also because of rupee depreciation of five percent.
Another aspect of continued rise in petroleum product price has been the government's stance to improve revenue collection as the price of products domestically have been still cheaper compared with countries like India, Sri Lanka and Bangladesh.